Nada foi mais cercado de expectativa nos últimos meses da política brasileira do que o discurso de Dilma Rousseff para os senadores em sua última cartada para tentar salvar seu mandato. A aceitação de seu impeachment era previsível, mas, para o seu discurso, havia uma expectativa sobre um conteúdo surpreendente.  A presidente fez uma boa fala, com partes mais incisivas, mas não o suficiente para reverter votos – e nada épico, também. Sequer citou nominalmente Michel Temer, maior beneficiário de sua queda.
Mas eis que vieram as perguntas e respostas. Em tese, o momento para a apresentação de tecnicalidades, sem toda aquela atenção por parte da mídia. Mas, se pesquisadores precisarem de algo em que se apoiar para futuras avaliações do que acontece no Brasil neste momento, assistir às 13 horas de interrogatório de Dilma será bem mais interessante.
Listamos 10 razões pelas quais esses momentos foram muito mais marcantes para a política brasileira, e para a própria biografia de Dilma Rousseff, do que seu discurso inicial.
1) Paciência de Jó
Dilma, com quase 69 anos de idade, prestou um dos maiores, se não o maior, depoimento que se tem registro na história do Congresso Nacional – certamente, o maior de uma mulher. Foram mais de 13 horas de perguntas e respostas, com duas horas de intervalo, num total de 11 horas – fora as considerações iniciais de quase uma hora. A sabatina cercada de polêmica do agora ministro do STF Edson Fachin durou 12 horas, mas somente as questões de ordem discutidas entre os parlamentares inicialmente levaram duas horas. O governador de Goiás, Marconi Perillo, na CPI do Cachoeira, em 2012, respondeu a perguntas de parlamentares por mais de oito horas. No Conselho de Ética da Câmara, Eduardo Cunha bateu neste ano o recorde daquele fórum, ao ser ouvido por sete horas.
2) Não teve cola
A presidente nunca foi de improvisos. Ao contrário do ex-presidente Lula, que tem uma oratória invejável e causos e mais causos para entreter plateias das mais variadas, Dilma é robótica. Tem dificuldades de concatenar argumentos quando precisa se ater a oficialismos, nunca foi fã de entrevistas. Seu discurso foi lido, mas, mais que isso, passou pelas mãos de muitos colaboradores. Suas respostas às perguntas dos senadores foram marcadas pela espontaneidade. Deu até para dar risada, apesar da situação que ela estava enfrentando. Ao responder, por exemplo, o senador Cassio Cunha Lima (PSDB-PB), que disse que o impeachment nasceu das ruas, Dilma lembrou do desvio de poder de Eduardo Cunha ao aceitar a denúncia contra ela e que parte dos líderes das manifestações de rua pró-impeachment posava para fotos com o ex-presidente da Câmara. Rindo, disse ao senador tucano: " A vida é assim, senador, dura". O próprio senador acabou com um sorriso amarelo.
3) Olho no olho
Usando um artifício psicológico, buscou olhar o tempo inteiro nos olhos dos senadores que declaradamente votarão pela sua deposição. Figuras com quem ela teve atritos claros, como o">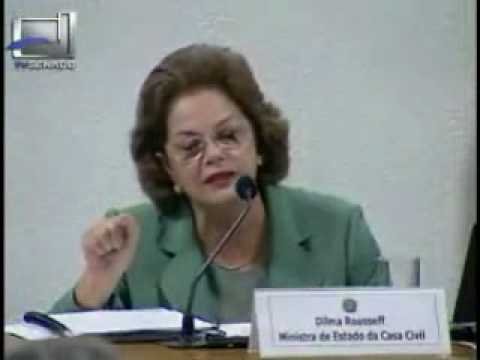 senador José Agripino (DEM-RN), ou Aécio Neves (PSDB-MG), derrotado por ela nas últimas eleições, foram alvos de olhares bem diferentes daqueles registrados em seu discurso de ontem pela manhã.
4) Sem vergonha de tabelas
Não se furtou a apelar para a tecnicalidade quando necessário. Ouvia perguntas lidas de forma a fazê-la cair em contradição, e buscava responder na mesma moeda, também expondo aspectos técnicos. Repetiu à exaustão os argumentos de sua defesa para bancar que não cometeu crimes de responsabilidade. Ainda na resposta ao líder do PSDB, Cassio Cunha Lima, Dilma fez piada com seu gosto pelas planilhas. "Se vamos começar a mostrar tabelas, eu também mostro. Não gosto de fazer isso porque sempre me acusaram de gostar de Power Point".
5) Temer como alvo
Diferente do discurso da manhã, escrito com bastante cautela, em que não citou nenhuma vez o nome de Michel Temer, Dilma partiu para o ataque no interrogatório. Em resposta a Cristóvam Buarque (PPS-DF), que perguntou sobre as qualidades que Dilma havia visto em Temer para escolhê-lo para ser seu vice em duas eleições, a presidente respondeu, com direito a menção a gravações da Operação Lava Jato: "O deputado federal Michel Temer foi escolhido para ser meu vice-presidente porque supúnhamos que ele era integrante desse centro democrático, progressista, transformador. Por isso, ele foi convidado. Nós acreditávamos que ele representava o que havia de melhor no PMDB. Senhor senador, eu não sei dizer quando isso começou a mudar, mas o certo é que começou a mudar quando, ao ser gravado, o senador Jucá disse que "Michel é Cunha". Ele queria dizer o quê? Michel Temer integra o grupo do deputado Eduardo Cunha."
6) Casa de ferreiro, espeto de pau
Teve serenidade para ouvir lições de moral de senadores com moral bastante duvidosa. Zezé Perrella (PTB-MG), também dando a deixa para Dilma falar de Temer, disse a ela que "não há um único voto que vossa excelência tenha recebido, que ele também não tenha recebido", argumentando contra a tese dela de que seus 54 milhões de votos recebidos nas últimas eleições estavam sendo desrespeitados com o processo de impeachment. Sua resposta lembrou o papel do PMDB em sua aliança, que era garantir apoio parlamentar. "Os votos, senador, não são do senhor Michel Temer. Os votos foram obtidos por mim", disse.
7) Amigos, amigos…
Dilma, em seu longo interrogatório, teve estômago até para ouvir que um antigo amigo pessoal seu apoiaria sua derrubada da Presidência. José Aníbal (PSDB-SP) militou com Dilma contra a ditadura militar e foi um dos menos respeitosos a ela em sua pergunta. Disse ele que o governo de Dilma "já não existe mais" e que, "em horas, já não existirá mais a sua presidência". A resposta de Dilma foi uma das quais ela mais mostrou irritação: "Senhor senador José Aníbal, a quem eu conheço a 50 anos. Sei perfeitamente da forma pela qual o senhor se conduz. Espero que o senhor tenha em relação a esse processo uma posição de imparcialidade e que o senhor não me condene antes da hora. Acho que é uma falha profunda no devido processo legal, e eu nunca soube que isso era possível, um julgador, na hora em que uma testemunha está depondo, externe o seu julgamento. Lamento, senador Zé Anibal, que o senhor não cumpra os mínimos princípios do devido processo legal, que me assegura amplo direito de defesa. E fico estarrecida por isso partir do senhor, que me conhece há muitos anos".
8) Habemus golpe
Depois de aparecer contida em seu discurso, em que fez poucas menções ao golpe que ela e seus apoiadores bradam aos quatro ventos no dia a dia, Dilma perdeu o pudor de afirmar que o processo que enfrenta é um golpe parlamentar – na frente dos parlamentares. Certamente, não conquistou simpatias. Mas deixou seu recado. Em resposta a Zezé Perrella, por exemplo, disse, repisando suas teses jurídicas: "Me julgar por um crime que eu não cometi, sendo eu presidente da República, implica necessariamente em me condenar num processo que tem todas as características de um golpe parlamentar no meu mandato".
9) "Veja bem…"
Buscou apontar diretamente contradições de quem, com ou sem razão, apontava o dedo para ela. Aécio Neves lembrou que as contas da campanha vitoriosa de Dilma são alvo de investigação pelo TSE. Dilma, ao responder, também lembrou: "Quero lembrar ao senhor que também foi aberto contra as suas contas investigação. Portanto, senador não é essa a questão". Ao comentar as acusações de que seu governo produziu indicadores terríveis, o que também é verdade, Dilma lembrou ao tucano que foi alvo de forte boicote político. "Não acho de maneira alguma que a situação que eu enfrentei, a situação que qualquer presidente da República enfrentará, diante de crises que são cíclicas, no mundo atual, em relação à economia internacional – e não só ao Brasil–, que essas flutuações cíclicas podem ser encaradas sem uma cooperação entre os diferentes órgãos do poder. Não podem, senador."
10)
Uniforme de guerra
Ninguém notou, mas Dilma Rousseff usou a mesma roupa com a qual visitou o Congresso no início deste ano, ainda como presidente, para inaugurar o Ano Legislativo. Na ocasião, cumprimentou friamente Eduardo Cunha, que já tinha admitido a denúncia pelo impeachment. Era a abertura do ano no qual o Congresso acabaria com qualquer possibilidade de ela voltar àquele tipo de solenidade. Voltar ao Congresso para sua última visita como presidente com aquela mesma roupa não deve ter sido mera coincidência.
Sign up for The Intercept Newsletter here.
The post 10 momentos em que Dilma caiu lutando no Senado appeared first on The Intercept.

from The Intercept ift.tt/2bC2gYc