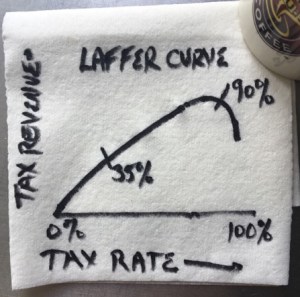 Trump claims his big tax cut will pay for itself based on his D-student misunderstanding of the "Laffer Curve." Economist Art Laffer, my mentor at U Chicago, showed how cutting taxes could produce more tax revenue, a theorem he famously drew on a napkin.
Laffer drew the Curve for me—also on a napkin. (I can't make this up: Art was addicted to cheeseburgers and always scribbled diagrams as he talked and chowed down. This is a replica of what he showed me—he used the original to wipe up.)
One napkin was shown to Ronald Reagan who, foreshadowing Trump, was too thick to understand it. Like Trump, the Gipper thought that it proved that, 'the lower the tax, the more tax revenue collected.' George Bush Sr. called that "voodoo economics."
Not voodoo, no; but here's the key—pay attention, A students!— it's a CURVE. When "marginal" tax rates are ABOVE 90%, cutting to, say, 85%, will actually produce more tax revenue from increased business activity. But at the lower end of the curve, with taxes below 40% as they are now, there's no tax gain—just the opposite, the Laffer Curve shows tax collections will collapse.
Cutting the corporate rate to 15% from 40% will cause a $4 trillion-dollar tax loss — which non-corporations, that is, working class schmucks who voted for Trump, will have to make up.
Take a look…then wipe that cheese off your chin.
And that ain't the bottom of the stupid and venal oozing from the Oval Office. The Donald's tax plan includes opening new loophole called, "territoriality." To translate from the pigs'-Latin, this means that the US can no longer collect taxes on profits of US corporations on their foreign operations.
In other words, THIS IS A MASSIVE TAX BREAK FOR MOVING A FACTORY OVERSEAS. Shifting your plastics factory from Midland, Michigan to Monterey, Mexico means you no longer pay taxes on it. Hey, wasn't this the guy who said he'd TAX companies that leave the USA?
Well, it looks like he'll make Mexico great again.
But maybe Trump is no tax dunce—but one very brilliant business man who knows how to dupe his troops. After all, he's a casino magnate who makes his money by fleecing those suckers in the red trucker hats. Trump knows: the house always wins.
The post Trump Stumped: Tax Cut based on
his D-Student Misunderstanding
of Laffer Curve appeared first on Greg Palast.
via Greg Palast bit.ly/2oxQSYo