Já não é mais possível segurar a blindagem de Aécio Neves (PSDB-MG) e sua família. Depois de passar anos ignorando gravíssimas denúncias de jornalistas mineiros contra ele e sua irmã, a grande imprensa passou a publicar as várias vezes em que o presidente do PSDB foi citado em delações premiadas. Ontem, em furo de Lauro Jardim de O Globo, o país conheceu o conteúdo de uma conversa gravada por um parceiro de crime do tucano, Joesley, o dono da Friboi, que assim agiu para tentar diminuir sua pena.
Aécio aparece no áudio pedindo R$2 milhões para bancar sua defesa na Operação Lava Jato. Em um dos diálogos, o empresário pergunta para o senador como será a entrega do dinheiro:

"Se for você a pegar em mãos, vou eu mesmo entregar. Mas, se você mandar alguém de sua confiança, mando alguém da minha confiança"
Com a maior tranquilidade do mundo, o presidente do PSDB deu as coordenadas para a execução do crime:
"Tem que ser um que a gente mata ele antes de fazer delação. Vai ser o Fred com um cara seu. Vamos combinar o Fred com um cara seu porque ele sai de lá e vai no cara. E você vai me dar uma ajuda do caralho"
Fred é Frederico Pacheco de Medeiros, primo de Aécio e ex-diretor da Cemig nomeado pelo tucano. Foi também coordenador de sua campanha para presidente em 2014. E acaba de ser preso pela Polícia Federal.
Sempre muito próximo de seu amigo Aécio, Zezé Perrella (PMDB-MG) — dono do helicóptero flagrado transportando meia tonelada de pasta base de cocaína —  também aparece nas investigações como receptor dos R$2 milhões que Aécio pediu para a Friboi. O dinheiro não foi para advogados, mas para Perrella. Em uma das viagens para São Paulo para pegar as malas de grana da Friboi, o primo foi filmado pela Polícia Federal repassando-as para Mendherson Souza Lima, secretário parlamentar de Perrella, também preso hoje.
O uso do verbo "matar" pode ser força de expressão, mas diante das circunstâncias estranhas em que um denunciante de Aécio morreu, fica difícil não dar asas à imaginação. Depois de acusar Aécio de corrupção, ligação com tráfico de drogas e até assassinato de opositores, o policial civil Luca Arcanjo foi encontrado morto em sua casa enforcado por uma gravata — um caso que teve pouquíssima repercussão na imprensa, para não dizer nenhuma. A versão oficial é de suicídio e, como no caso do helicoca, nunca mais se falou no assunto.
Nas redes sociais, muitos se apressaram em apontar a imparcialidade da Globo por ter publicado o vazamento da delação da Friboi em primeira mão. Bom, já faz um tempo que Aécio foi largado ferido na estrada e não faria sentido agora perder um furo que, inevitavelmente, seria divulgado por algum concorrente. Precisamos lembrar, então, que são antigas e inúmeras as denúncias de jornalistas mineiros que nunca tiveram repercussão na Globo ou em qualquer outro veículo da grande mídia. Aécio foi por muito tempo o principal nome da oposição e, com toda essa blindagem, se sentia à vontade para discursar contra a corrupção do PT. Enquanto as denúncias eram omitidas, um ambiente tranquilo e favorável era construído para o mineiro.
Teve jornalista que ousou furar o bloqueio jornalístico e foi parar na cadeia sem que isso merecesse uma cobertura aprofundada. Depois de denunciar Aécio e seu grupo político no Diário de Minas, Marco Aurélio Carone ficou 9 meses preso, mas foi absolvido e solto 5 dias após o fim das eleições em que o tucano concorreu à presidência. Sem nenhuma manchete nos jornalões ou cobertura do Jornal Nacional, o jornalista foi à Comissão de Direitos Humanos da Câmara no fim do ano passado para confirmar as acusações pelas quais foi preso: financiamento de campanha via caixa dois com envolvimento de Andreia Neves (presa hoje pela Polícia Federal), esquema na mineração e exportação de nióbio, uso político da estatal Cemig, dentre outras. Por que este jornalista foi silenciado na imprensa? Por que sua prisão não revoltou colegas que hoje publicam basicamente as mesmas denúncias feitas por delatores? Essas sucessivas omissões contribuíram para a construção da candidatura de Aécio em 2014, oferecendo a ele o discurso do combate à corrupção.  Tanto é verdade que, mesmo após a derrota nas urnas, eleitores do tucano saíram às ruas para protestar contra os corruptos vestindo a camisa que estampava aquele famoso bordão da pós-verdade: "Não tenho culpa. Votei no Aécio."
Não nos esqueçamos também de outro caso gravíssimo ocultado pela grande mídia: o outro primo de Aécio Neves que vendia habeas corpus para traficantes de drogas em conluio com um desembargador nomeado pelo próprio Aécio. O primo e o desembargador foram presos, Aécio não foi incomodado com o assunto, e a imprensa nunca questionou as digitais do tucano no caso. Quer dizer, o Fantástico fez uma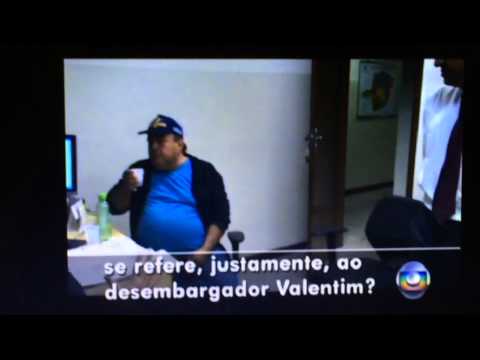 target="_blank">longa reportagem, sim, mas sem citar o nome de Aécio.

Depois de anos escondendo a sujeirada da família Neves debaixo do tapete, não dá para a Globo e outras empresas de comunicação fazerem a egípcia e posarem de imparciais. Não estamos diante de um rascunho de e-mail ou um recibinho de pedágio, mas de um áudio que revela em detalhes a prática de um crime. Está tudo muito claro, não precisa nem de power point explicando. Se levarmos em conta o que aconteceu com Delcídio do Amaral (PT-MS), Aécio deve ser preso nos próximos dias. E se resolverem começar a ouvir os jornalistas mineiros, talvez nunca mais saia da cadeia.
The post Depois de anos escondendo sujeiras debaixo do tapete, grande imprensa larga Aécio ferido na estrada appeared first on The Intercept.

from The Intercept bit.ly/2rwmP0t