No último domingo conversei com o jornalista britânico Misha Glenny sobre "O Dono do Morro: Um homem e a batalha pelo Rio", livro que trata da ascensão e queda do Nem da Rocinha. Era uma mesa do Hay Festival de Cartagena das Índias, numa capela do Convento Santa Clara, uma construção de 1621 transformada em hotel cinco estrelas nos anos 1990. Cartagena é uma espécie de Paraty caribenha, e o paralelo faz ainda mais sentido durante um Hay Festival, encontro de escritores que deu origem à Flip.
Para escrever a biografia de Antônio Francisco Bonfim Lopes e fazer o trabalho de apuração que parecia não interessar a nenhum repórter brasileiro, Misha aprendeu português e viveu alguns meses na Rocinha. Conta que precisava acordar cedo para comprar o único exemplar de O Dia disponível num comércio da Rua 1. Segundo ele, o único exemplar do único jornal. Faz sentido que a Rocinha tente devolver ao Rio o seu desprezo: "se os cariocas do asfalto tão pouco se fodendo pra gente, a gente tá pouco se fodendo pra eles".

Na cidade idílica de onde García Márquez projetou sua fantasia para o mundo, palco da celebração do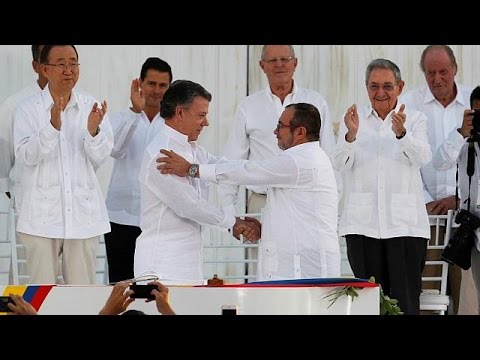 target="_blank">acordo de paz entre as Farc e a Colômbia em setembro passado, foi estranho ouvir Glenny discorrer em inglês britânico com absoluta propriedade sobre as quebradas da Rocinha, a escalada da violência no Rio de Janeiro, as relações familiares de Nem e outras também bastante íntimas, entre o Estado e o narcotráfico.
Mais estranho ainda se colocarmos seu livro, publicado em 2015, à luz dos mais recentes acontecimentos.
Até a manhã do dia 8 de novembro de 2011, um quarteto de notáveis dominava a paisagem do Rio de Janeiro. Um deles era o governador do Estado, o segundo era o prefeito, o terceiro o maior empresário do país, comandando seus negócios desde o balneário, e o quarto, presidente e primeiro ministro da maior favela da Zona Sul da cidade, responsável por abastecer 60% da demanda de cocaína da cidade e dono da Rocinha durante um atípico longo reinado. Todos os quatro surfavam uma irresistível onda de prosperidade – até que dessem com as fuças na areia de forma espetacular.
Naquela madrugada, o primeiro deles iria cair. Então pareceria impossível que, pouco mais de cinco anos depois, outros dois também estivessem presos. E em Bangu 9 e 8, estabelecimentos bastante menos respeitáveis que a Penitenciária de Segurança Máxima de Campo Grande de Nem.
Além do xilindró, da cabeça raspada e de conexões ainda a descobrir, o que une a trinca é uma sigla: UPP. Nem foi preso – ou combinou sua captura – pela força do projeto das UPPs, já que uma invasão era iminente. Eike Batista, empresário símbolo da nossa falida prosperidade, doou R$ 20 milhões por ano para as UPPs entre 2010 e 2013. Preso essa semana, confessou ter pago propina de U$ 16,5 milhões a Sérgio Cabral, governador capitão do hoje moribundo projeto.
Desafio o leitor a assistir sem vomitar à dupla em ação neste
target="_blank">vídeo de 2012 onde, em cerimônia realizada no desastre ambiental que é o "Superporto" de Açu, Cabral elogia a visão "fordiana e stevejobiana" de Eike, agradece o seu dinheiro "produtivo" e tece loas ao seu empreendedorismo, "dando continuação a este grande brasileiro que é o seu pai, assim como a Dilma dando continuação ao grande brasileiro que é o Lula".
Ali estavam bem representados os próceres do capitalismo de estado à brasileira, modelo marcado por massivos esquemas de corrupção e transferência de dinheiro do governo para empresários via isenção fiscal, crédito barato ou mesmo sociedade. Os últimos fatos só indicam um acirramento disso: o PMDB de Cabral está igualmente à serviço do grande capital, só que desta vez sem nenhum aceno à sociedade, ao contrário do governo anterior.
O livro de Misha acaba sendo muito mais do que uma precisa crônica do império dos chefes do morro no Rio de Janeiro – ele acaba por expor as contradições do "extraordinário" projeto brasileiro na virada entre as duas primeiras décadas do século, tendo o Rio como ponta de lança. O balanço é trágico: a abundância de dinheiro público financiando os negócios de megapicaretas, a inclusão fajuta pelo consumo, tratando pessoas como consumidores e não cidadãos, uma política de segurança capitaneada pela polícia mais corrupta e letal do planeta e, finalmente, a tal "inédita" união entre Cidade, Estado e Governo Federal, tendo no centro a aliança entre o PT e o PMDB, deixou um rastro de corrupção, fracasso e morte.
O ano começa, no entanto, com uma nota de esperança: destes quatro notáveis do Rio, três já rasparam a cabeça no xilindró. Só falta o nervosinho.
The post Eike, Cabral e Nem: do quarteto do Rio Olímpico, só falta um appeared first on The Intercept.

from The Intercept bit.ly/2jAX0Na