Given that Hillary Clinton's Senate vote, on October 11, 2002, to authorize the invasion of Iraq might have been what cost her the Democratic nomination for the presidency in 2008, it was remarkable that the most powerful speech on her behalf on Thursday night in Philadelphia came from the father of an American soldier who was killed in that war.
However,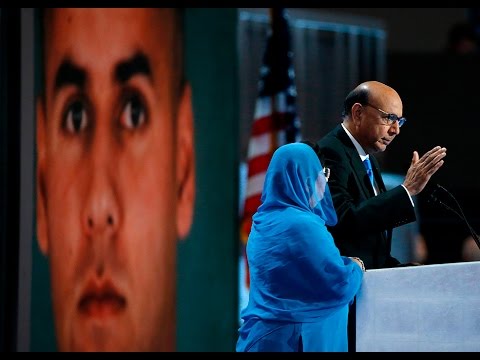 ?t=2m10s">the words of Khizr Khan — a Pakistani Muslim immigrant, whose son, Capt. Humayun S.M. Khan, was posthumously awarded the Bronze Star and Purple Heart for saving the lives of fellow soldiers in Baquba, Iraq in 2004 — were not about the wisdom or morality or politics of the war. They were about how his son's love of country, and his family's sacrifice, exposed the anti-Muslim bigotry behind Donald Trump's plan to bar followers of that faith from becoming Americans.
"Hillary Clinton was right when she called my son the best of America," Khan said, standing beside his wife, Ghazala. "If it was up to Donald Trump, he never would have been in America."
Khan then addressed the Republican candidate directly, with quiet dignity: "Donald Trump, you are asking Americans to trust you with their future. Let me ask you: have you even read the United States Constitution?" Reaching slowly into his jacket, Khan then removed a small booklet and added, "I will gladly lend you my copy."
"In this document, look for the words 'liberty' and 'equal protection of law,'" he continued. "Have you ever been to Arlington cemetery? Go look at the graves of brave patriots who died defending the United States of America. You will see all faiths, genders and ethnicities."
"You have sacrificed nothing, and no one," he added. "We cannot solve our problems by building walls."
Standing ovation for Khizr Khan & his wife- they lost their son in war. #muslim #american "we are stronger together" pic.twitter.com/O3nnWSG83r

— Heidi Hatch (@tvheidihatch) July 29, 2016
A historic moment when Khizr Khan, father of one of 14 Muslims who died serving the U.S. after 9/11, got a standing ovation at the #DNC.

— Raza Ahmad Rumi (@Razarumi) July 29, 2016
In 2007, when Clinton was forced to explain her vote on Iraq during a primary battle with Barack Obama — who had spoken out against the "dumb war" as an Illinois state legislator in October, 2002 — she initially blamed the faulty intelligence presented to Senators. "Obviously, if we knew then what we know now, there wouldn't have been a vote — and I certainly wouldn't have voted that way," she told NBC News.
"I should have stated my regret sooner and in the plainest, most direct language possible," Clinton reflected later, in her 2014 memoir, "Hard Choices." She added: "I thought I had acted in good faith and made the best decision I could with the information I had. And I wasn't alone in getting it wrong. But I still got it wrong. Plain and simple."
In December, after Trump responded to the mass shooting in San Bernardino by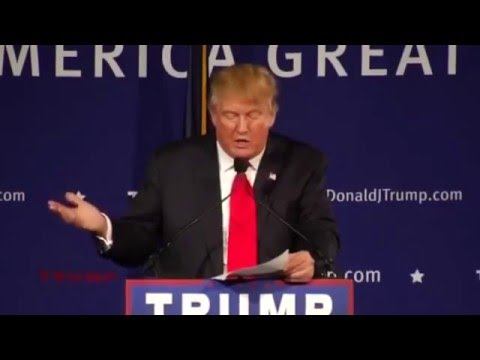 ">demanding, "a total and complete shutdown of Muslims entering the United States until our country's representatives can figure out what the hell is going on," Clinton's campaign released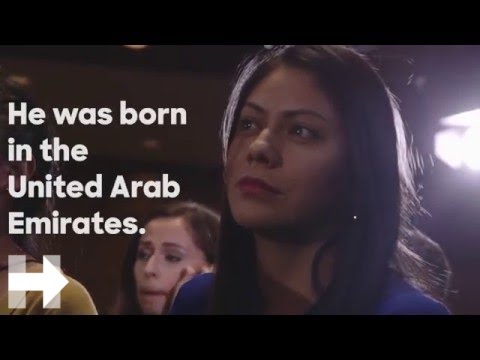 ">video of her praising the heroism of Capt. Khan.

Amid an outpouring of support and praise for Khan's speech, a rare sour note was struck by the Trump-supporting extremist Ann Coulter. Jerry Saltz, a New York magazine writer, advised her to look at a photograph of Capt. Khan's grave in Arlington National Cemetery.
@AnnCoulter pic.twitter.com/qxFz73g1Ty

— Jerry Saltz (@jerrysaltz) July 29, 2016
Sign up for The Intercept Newsletter here.
The post Khizr Khan, Father of American Muslim Soldier Killed in Iraq, Shames Donald Trump appeared first on The Intercept.

from The Intercept ift.tt/2a8CwSJ