As my colleague Glenn Greenwald reports, Sweden's top prosecutor, Marianne Ny, said on Friday that she has "discontinued" an investigation into allegations that Julian Assange, the founder of WikiLeaks, raped a woman in Stockholm in 2010, and withdrawn an international warrant for his arrest.
Detained for 7 years without charge by while my children grew up and my name was slandered. I do not forgive or forget.

— Julian Assange (@JulianAssange) May 19, 2017
Assange is expected to speak any minute now from a balcony at the embassy, where dozens of reporters have assembled. Ruptly, a state-owned Russian news service, is streaming live video:

"At this point, all possibilities to conduct the investigation are exhausted," Ny said in her statement earlier in the day. Ecuador's decision to grant Assange political asylum in its embassy in London nearly five years ago, shielding him from extradition, Ny said, had also made it impossible for her to formally notify the Australian of the charges against him.
"If he, at a later date, makes himself available, I will be able to decide to resume the investigation immediately," Ny added.
Assange still faces arrest in Britain, however, for failing to surrender to a court in London in 2012, when he lost his appeal against extradition to Sweden and took refuge in the embassy. The Metropolitan Police Service in London said that its officers would be "obliged to execute that warrant should he leave the Embassy."
A more serious concern for the WikiLeaks founder is the fact that Attorney General Jeff Sessions recently called arresting Assange "a priority," and the Justice Department has reportedly reopened discussions about bringing charges against Assange for publishing government secrets.
Assange's first public response to the news from Sweden was to share an old photograph of himself smiling on Twitter.
— Julian Assange (@JulianAssange) May 19, 2017
As reporters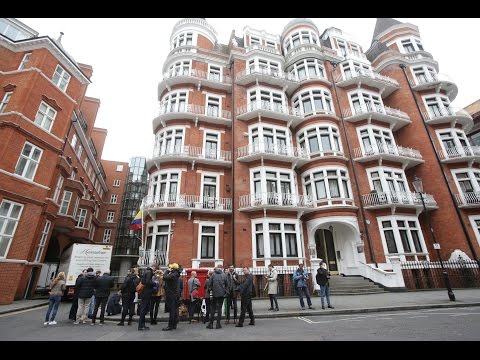 ">flocked to the embassy in London to wait for remarks from Assange, Ny was asked at a news conference in Stockholm about the perception that the WikiLeaks founder had "declared victory."
"It is possible that he still hasn't had time to read through the entire decision," Ny responded.
Ques: Assange has declared victory. What do you say? Ans: it is possible that he still hasn't had time to read thru the entire decision.

— Kim Zetter (@KimZetter) May 19, 2017
The WikiLeaks founder was originally wanted for questioning on accusations of rape, sexual molestation and unlawful coercion brought by two Swedish women in 2010. He strenuously denied those allegations, casting them as part of a politically motivated plot to stifle his work by distorting the circumstances of what he called consensual sex. Three of the four counts were dropped in 2015 when statutes of limitations expired on all but the rape allegation.
The United Nations Working Group on Arbitrary Detention said in an opinion released in late 2015 that Assange had been "arbitrarily detained by the Governments of Sweden and the United Kingdom" since the legal case against him began in 2010. The Ecuadorean embassy, where Assange has resided since losing his appeal against extradition to Sweden in 2012, is surrounded by British police officers 24 hours a day.
The post Live Video: Julian Assange Speaks After Sweden Halts Rape Investigation appeared first on The Intercept.

from The Intercept bit.ly/2pTxxSf