Anne Hidalgo, the mayor of Paris, poked fun at Donald Trump on Friday, after the American president claimed that "Paris in no longer Paris," because, he said, lax border security had permitted "foreign terrorists" to infiltrate the French capital and change its character.
Speaking to a gathering of conservative political activists in Maryland,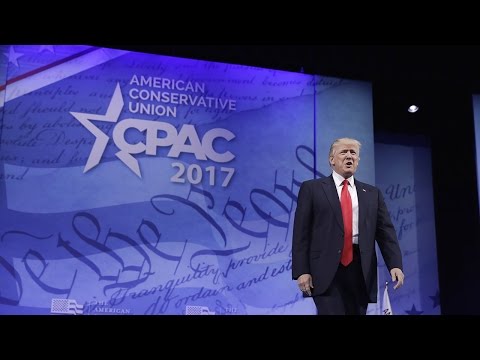 ?t=37m15s">Trump argued that terror attacks and violent crime in Europe stemmed from a failure to acknowledge that "national security begins with border security."
"Foreign terrorists will not be able to strike America if they cannot get into our country," Trump said. He then contrasted this with violence in Sweden, Germany and France he attributed to the migration of "radical Islamic terrorists" to those nations. The president seemed unaware of the fact that terrorist attacks in Europe have mainly been carried out by native-born extremists, not immigrants.
To reinforce his claim about the supposed harm to French society, Trump cited a friend he identified only as "Jim," who told the president he stopped making annual trips to the French capital four or five years ago because "Paris is no longer Paris."
"No matter the issue, Trump knows a guy" t.co/cIOonfB7Hy

Meet Jim, "a very, very substantial guy" who says Paris is no longer Paris pic.twitter.com/u2H7kiCbon

— Bradd Jaffy (@BraddJaffy) February 24, 2017
The remark came in a section of Trump's speech devoted to the threat of terrorism from foreigners but also seemed to echo the racist rhetoric of French nationalists who claim that immigrants from the country's former colonies have changed its character.
Trump's decision to cite his friend Jim as an expert on Paris set off a round of trans-Atlantic mockery which the city's mayor quickly joined in on.
Please, help Donald Trump's friend "Jim," who can't go to Paris anymore. Give generously. #IStandWithThatSubstantialGuyJim pic.twitter.com/c3yZ4fNkz8

— Tom the Dancing Bug (@RubenBolling) February 24, 2017
Hidalgo was at the Eiffel Tower for the launch of a tourism campaign in association with Disneyland Paris when Trump made his remarks. In response, she addressed a tweet to the American president "and his friend Jim" showing herself and a Disney executive "celebrating the attractiveness of Paris with Mickey and Minnie."
À Donald et son ami Jim, depuis @LaTourEiffel nous célébrons l'attractivité de #Paris avec Mickey et Minnie. pic.twitter.com/unuRB1traY

— Anne Hidalgo (@Anne_Hidalgo) February 24, 2017
Hidalgo also pointed out that reservations by American tourists for 2017 were up by 30 percent from a year ago.
Au 1er semestre 2017, les réservations de touristes américains à #Paris sont en hausse de 30% par rapport à 2016. #Donald&Jim??

— Anne Hidalgo (@Anne_Hidalgo) February 24, 2017
That statistic contrasts sharply with a reported drop in foreign tourism to the United States, which by the travel writer Arthur Frommer attributed to Trump's attempt to ban travelers from seven Muslim-majority nations.
#Trump's policies could have a negative impact on tourism to the U.S. t.co/zSNUa4oPKB #ThursdayThoughts pic.twitter.com/10ILIEBvoZ

— Frommer's (@Frommers) February 23, 2017
The founder of Frommer's Travel Guides wrote on the company's website Thursday:
Though they may differ as to the wisdom of the move, the travel press and most travel experts are of one mind: They are currently drawing attention to an unintended consequence of the Trump-led efforts to stop many Muslims from coming to the U.S., pointing to a sharp drop in foreign tourism to our nation that imperils jobs and touristic income.

It's known as the "Trump Slump." And I know of no reputable travel publication to deny it.

Thus, the prestigious Travel Weekly magazine (as close to an "official" travel publication as they come) has set the decline in foreign tourism at 6.8%. And the fall-off is not limited to Muslim travelers, but also extends to all incoming foreign tourists. Apparently, an attack on one group of tourists is regarded as an assault on all.
"A drop of that magnitude, if continued, would reduce the value of foreign travel within the U.S. by billions of dollars," Frommer observed. "And the number of jobs supported by foreign tourists and their expenditures in the United States — and thus lost — would easily exceed hundreds of thousands of workers in hotels, restaurants, transportation, stores, tour operations, travel agencies, and the like."
Later on Friday, the French foreign minister, Jean-Marc Ayrault, noted on Twitter that, even without Trump's friend Jim, 3.5 million American tourists had visited France last year.
"3.5 million American tourists visited France in 2016, they'll always be welcome. #Trump #Paris #Nice #SurvivorTree" t.co/bsrIuEA3TK

— France Diplomacy???????? (@francediplo_EN) February 24, 2017
Earlier in the day, Ayrault and Uzra Zeya, the Chargé d'Affaires of the U.S. Embassy in Paris, had attended the ceremonial planting of a tree donated to the French nation by the September 11 Museum in New York, to commemorate victims of terrorism in both countries.
Planting ceremony of the #SurvivorTree donated to ???????? by @Sept11Memorial, in solidarity with all victims of terror. pic.twitter.com/COnH3c6U7q

— France Diplomacy???????? (@francediplo_EN) February 23, 2017
The post Mayor of Paris Trolls Donald Trump and His Friend Jim appeared first on The Intercept.

from The Intercept ift.tt/2mlNLyn