Estreiam neste fim de semana no Netflix os seis primeiros novos episódios de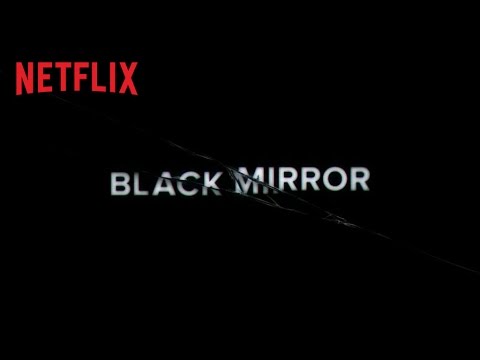 target="_blank">"Black Mirror", a brilhante série, profundamente perturbadora, que apresenta uma distopia tecnológica para o seu deleite. A série continua perturbadora e continua brilhante, mas, pela primeira vez, o tema do programa, que parece combinar Rod Serling (The Twilight Zone) e Evgeny Morozov (estudioso das implicações sociais da tecnologia), é tão próximo de nossa realidade que a experiência pode acabar por não ser tão agradável assim.
Mas isso não é ruim. Uma das maiores conquistas de Black Mirror é fazer com que sintamos um pavor tremendo sobre o rumo que as coisas mundanas da vida podem tomar nos próximos dez anos — seu smartphone, seu perfil no Facebook, sua TV — tudo isso pode levar a um pesadelo coletivo. E a série acerta na mosca: isso provavelmente acontecerá! Já está acontecendo. Mas em vez de abordar essas questões em um Sci-Fi reductio ad absurdum, como o programa fez no passado, (E se as curtidas de Facebook fossem a única moeda do mundo? E se seu ex pudesse ser ressuscitado em forma de robô e morar no seu sótão?) os melhores momentos dessa temporada são extremamente 2016.
O mini-filme mais inquietante da terceira temporada é "Hatred in the Nation", que poderia se passar nos dias de hoje se você ignorar a presença de abelhas-robô. A primeira cena abre com um jornalista metido em uma confusão infernal por conta de um artigo controverso. Em poucos minutos, depois de um massacre de assédio no Twitter, o escritor acaba morto da forma mais macabra possível — quando a protagonista do programa, uma detetive, chega à cena do crime e não se surpreende com o fato do morto criar apenas manchetes sensacionalistas, uma cena tirada do pior pesadelo de qualquer escritor com bloqueio às 4 da manhã (pelo menos para mim). A investigação sobre a morte do escritor é a introdução para o resto do episódio de uma hora e meia (!), que conta com um verdadeiro cartão de bingo de palavras-chave no estilo zeitgeist: drones, reconhecimento facial, hashtags, vazamento de fotos comprometedoras, GCHQ, backdoors, criptografia de ponta a ponta, impressão 3D, hackers e até mesmo um carro sem motorista. Por acaso, isso acaba não soando amador, sem deixar de ser violento.
A experiência de assistir a uma hora e meia de ameaças de morte a jornalistas, trolls de Twitter maníacos com sede de sangue passando de uma vítima para a outra e regimes antiprivacidade complexos não se encaixa mais no gênero da ficção científica. Nem mesmo as abelhas-robô me deixaram incrédulo — muito do que se passa em "Hatred in the Nation" está acontecendo por todos os cantos nessas eleições americanas, então você tem a impressão de estar sendo levado para um mundo estranho vizinho ao nosso em Black Mirror. Mesmo quando o programa passa por seus instantes mais mundanos, seu estômago vai embrulhar de angústia, sua timeline nas redes sociais será sua pior inimiga e você só pensará em fechar as cortinas. É eletrizante, e até um pouco repugnante, assistir ao episódio "Shut up and dance" em meu laptop. Aqui, o laptop de um adolescente é infestado por malwares que, sob o controle de um desconhecido, registram seus momentos mais íntimos. Durante esse episódio, tive vontade de fechar o computador e me esconder embaixo da cama. É possível que você tenha a mesma sensação, mas não faça isso, tem muita poeira lá embaixo, e Black Mirror é simplesmente sensacional.
Esta temporada não tem aquele tom manjado de dor e perdição. Alguns episódios ainda mantém um clima de que diabos estou assistindo, em vez de o Twitter virou uma arma e vai me matar. O episódio "San Junipero", em que duas mulheres se conhecem em uma cidade-resort de outro mundo deslocada no tempo e no espaço, tem um clima onírico, sutil e visualmente deslumbrante. Diferente de "Hated in the Nation", que deixa claro a que veio desde o princípio, "San Junipero" tem seu mistério conservado até o fim — e, ao contrário do resto da terceira temporada de Black Mirror, repleta de angústia e perspicácia, dá até para assistir uma segunda vez.
The post Nova temporada de Black Mirror mostra uma distopia assustadoramente próxima da realidade appeared first on The Intercept.

from The Intercept ift.tt/2er2pTI