Na virada da primeira para a segunda década do século, um ingrediente começou a alterar não só a temperatura corporal dos foliões do Carnaval carioca, mas toda a vibe dos blocos indie que orbitam ao redor do centro da cidade. Não é rapé, não é lança-perfume e tampouco é catuaba: MDMA.
As aglomerações perderam a hora para acabar, seus trajetos são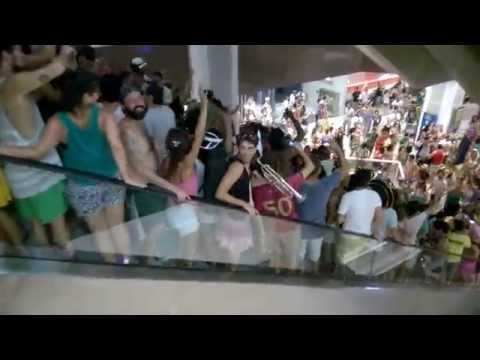 target="_blank"> imprevisíveis, as baterias não desligam, os bumbos não ralentam com o passar das horas, mas aceleram. A procissão ganha ares épicos, de larga travessia pelo turbilhão de excessos onde nos vemos cada vez mais extravagantes, pintados, brilhantes e permeáveis uns aos outros – as serpentinas dos amores entrelaçadas em engates imprevistos. O cortejo está mais nu, luxurioso, suave e sem a hostilidade bêbada e machola de outros carnavais. O Boi Tolo está desfilando desde o ano retrasado e nunca vai acabar.

"Egrégora" é uma palavra de origem grega que denomina a soma de energias sustentada por um grupo de pessoas. Para quem já envolveu-se com qualquer tipo de atividade teatral, é fácil entender o conceito: cada dia o público é outro, e a peça também é. Assim como num espetáculo ao vivo, a egrégora de um bloco de rua se altera brutalmente quando seus integrantes mudam. E eles mudam muito ao trocar o álcool por água e passar a se turbinar com MDMA.
O psicotrópico altera a atividade de neurotransmissores, age como estimulante e oferece efeitos psicodélicos, como distorções no tempo e espaço, além de ampliar nossa percepção tátil e auditiva. Foi sintetizado em 1912 por cientistas alemães para controlar hemorragia e pouco tempo depois patenteado como controlador de apetite.
Nos anos 70, psiquiatras americanos chegaram a chamar a droga de "penicilina para a alma", uma vez que ela aumentava a capacidade de comunicação e ajudava os pacientes a ter insights sobre seus problemas. Recentemente a Food and Drug Administration (FDA), órgão do governo dos Estados Unidos que ainda é o principal arauto da guerra contra as drogas no mundo, deu sinal verde para a terceira fase de testes do MDMA como forma de tratamento do transtorno de estresse pós-traumático. Há estudos conclusivos sobre a eficácia do tratamento e, se tudo der certo, o MDMA pode se tornar legal para esses fins já em 2021. Nos Estados Unidos, ele tem sido especialmente indicado para veteranos de guerra.
Apesar do uso laboratorial, a droga ficou mesmo popular na cena de música eletrônica entre os anos 80 e 90. Das raves até as invencíveis baterias dos blocos e seus cortejos incendiando as calçadas no Brasil foi uma transição lógica. A máquina de empatia do carnaval e sua febre de amor instantâneo encontraram no MD um motor e um veículo, especialmente num momento em que algum tipo de trauma político paira sobre todos nós.
---
Há muito lixo sendo vendido como MDMA nas ruas e, como outras drogas recreativas — legais ou não — o uso dela pode te causar problemas. Caso você vá usar a droga – que ainda é ilegal –, recomendo testar sua dose usando um kit reagente desse tipo e informar-se em links como este, este ou este. Enquanto o consumo dessas substâncias não for plenamente regularizado, cabe a nós fazer o trabalho de controle de qualidade e segurança que deveria ser do Estado.
The post O MDMA virou o lança-perfume do Carnaval moderno appeared first on The Intercept.

from The Intercept bit.ly/2lvYLdO