SOCIAL NETWORKS FILLED with laughter and derision on Sunday, in response to the bizarre claim by Donald Trump's aide, Kellyanne Conway, that the new White House press secretary, Sean Spicer, had not lied to the nation about the size of the crowd at Friday's inauguration, but merely presented "alternative facts."
"Alternative facts are not facts. They are falsehoods," Chuck Todd tells Pres. Trump's counselor Kellyanne Conway this morning. WATCH: pic.twitter.com/Ao005dQ13r

— Meet the Press (@MeetThePress) January 22, 2017
Conway introduced the concept when pressed by Chuck Todd of NBC News to explain why the president had asked Spicer to use his first appearance in the White House briefing room, on Saturday, to falsely claim that the National Mall was filled to capacity during Trump's inaugural address on Friday.
White House @PressSec on the crowd at Trump's inauguration: "This was the largest audience to ever witness an inauguration, period." pic.twitter.com/MmV3kzq38W

— BuzzFeed News (@BuzzFeedNews) January 21, 2017
With a jaw-dropping disregard for objective reality, Spicer had berated the White House press corps for reporting, accurately, that Trump's own estimate that up to 1.5 million people were on the mall was wrong.
Since much of what Spicer said in support of his case was demonstrably false, Conway's phrase was widely mocked.
Administration's 2nd day, and Conway came up with a phrase that could be its epitaph. "Alternative facts" will stay with Trump forever. bit.ly/2iSPX28

— James Surowiecki (@JamesSurowiecki) January 23, 2017
Someone convinced me to give Trump 100 days. I took a breath and agreed to try. Day 1, #alternativefacts, and I am done. Game on.

— Jimmy Wales (@jimmy_wales) January 22, 2017
"The Party told you to reject all evidence of your eyes and ears. It was their final, most essential command." (Orwell)#AlternativeFacts

— (((DuneMyThang™))) (@Kris_Sacrebleu) January 22, 2017
No, No! Party-created facts are official facty facts. OTHER "facts" are alternative. You can't create your own reality with this sloppiness. bit.ly/2kgw2qe

— The Relevant Organs (@relevantorgans) January 22, 2017
Just so you know, @KellyannePolls @seanspicer, there was another leader who was also big into using #alternativefacts. #Stalin pic.twitter.com/gDt7ME6cxn

— Joe Keene (@joekeene) January 22, 2017
Stars Jumbotron with a topical joke. pic.twitter.com/9vsmTG1Agj

— Kate Morrison (@unlikelyfanatic) January 22, 2017
Steve Kerr on his in unmemorable, short Magic career: "Sean Spicer will be talking about my career any second. 14,000 points." pic.twitter.com/XvvuUfKoNW

— Anthony Slater (@anthonyVslater) January 22, 2017
The brazenness of this attempt by the new White House to present entirely false assertions about objective reality as equally valid alternatives to factual information reported by the media is stunning. But given how important accurate statistics and evidence from the United States government are, it is worth noting how clearly Spicer's claims about the inauguration are contradicted by evidence available to anyone with the power of sight.
"We know that from the platform where the president was sworn in to Fourth Street holds about 250,000 people," Spicer told the press corps on Saturday. "From Fourth Street to the media tent is about another 220,000, and from the media tent to the Washington Monument, another 250,000 people."
"All of this space was full when the president took the oath of office," Spicer claimed.
Leaving aside that this would put the size of the crowd at 720,000, not 1.5 million, photographic evidence, webcam images and video shot by reporters who observed the address from a media tent at the back of the crowd show conclusively that the area of the mall around the tent and in front of the Washington Monument was largely empty.
First, the Washington Post published news wire images taken from the Washington Monument during the event and on the day of former President Barack Obama's first inauguration, in 2009, which showed a much smaller crowd this year.
Here is a side-by-side of Obama's 2009 inauguration crowd with today's for Trump bit.ly/2kgD0eK pic.twitter.com/6Zf8S3LLjf

— Washington Post (@washingtonpost) January 20, 2017
Second, Raj Mathai, a news anchor for the NBC affiliate in the Bay Area, recorded video during Trump's address which showed that the area in front of the media tent was largely empty.
What u don't see on TV: plenty of empty space in the rear of Mall. @POTUS delivering speech now. #Inauguration pic.twitter.com/is3oJfBxUG

— Raj Mathai (@rajmathai) January 20, 2017
Third, readers who are loathe to accept as genuine even video shot by a reporter can consult a truly objective source: images of the mall and the area around the Washington Monument recorded during Trump's address by a webcam mounted on the Smithsonian Castle's north flag tower.
Earthcam, a site that makes those images available online in cooperation with the National Park Service, later posted archived video of the live stream from Friday on Facebook, which gives skeptics the opportunity to examine the evidence for themselves.
That archived video, which is without sound, shows the mall during the entire event. Here is a portion of that video recorded during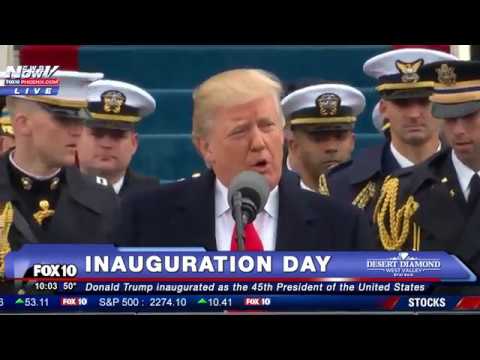 ?t=13m53s">the last three minutes of Trump's address, beginning at 12:15 p.m. on Friday.
As part of the effort to assuage his boss's bruised ego, Spicer also falsely told reporters that it was harder for spectators to get through security and on to the mall than in previous years, a claim which was debunked by the Secret Service. He then said that that the white floor coverings, which made the absence of people more visible in photos, had never been used before (they were used in 2013, at Obama's better-attended inauguration).
Finally, Spicer presented reporters with incorrect statistics about the volume of traffic on the D.C. subway system on Friday, saying that it was far higher than it had been on the day of Obama's second inauguration, in 2013, when it was, in fact, far lower.
While Spicer and Conway have taken much of the flak for these whoppers over the past 24 hours, it is important to keep in mind that they are simply covering for the primary fabulist in the White House: Donald Trump.
What Americans, and the media, have yet to fully absorb is that the president of the United States is now a man who managed to get 62 million votes despite making one demonstrably false claim after another. Having spent the five years before he ran for office peddling the conspiracy theory that Barack Obama was not born in Hawaii, Trump then went on the campaign trail and told voters that he had seen non-existent video of "thousands and thousands" of Arab-Americans cheering in New Jersey as the World Trade Center collapsed on September 11, 2001.
When confronted with that false claim by George Stephanopoulos in late 2015, Trump simply doubled down.
Although that falsehood was, briefly, a central concern for the media, Trump just refused to admit that he was wrong, even after it became apparent that there was no such footage, for the good reason that mass celebrations had not taken place.
In the end, Trump managed to wriggle off the hook for that lie, as he did for the lies about Obama's birth certificate being fake, mainly because his opponents for the Republican nomination, many of whom are now in government alongside him, refused to challenge him on lies about Democrats or Muslims that were, and still are, popular with their voters.
Trump, like much of the Republican base, relies on entirely skewed sources of information for his news, and has yet to pay any serious price for embracing conspiracy theories and treating internet rumors as facts. His reckoning with stubborn reality is long overdue, but it might not come until those around him stop flattering him and tell him the truth.
The post Observable Reality 1, Trump White House 0 appeared first on The Intercept.

from The Intercept bit.ly/2kgAC7O