Michel Temer, gracias por atendernos, ¿cómo está usted?

Alo, ¿como está presidente? ¡Muy bien!

Felicitándolo. ¿Cómo está usted?

Muchas Gracias, presidente. Yo quiero luego visitarlo en Argentina.

Bien, ¿cómo ha sido este día?

Sí, yo quiero visitarlo. Si me invita, con mucho gusto.

Aaaah, me parece que está un poco errado… Bueno, Michel Temer, quería hacerle una consulta: ¿A qué hora va a hablar usted?

Yo voy a hablar a las cuatro de la tarde.
O inesquecível diálogo de Temer recebendo a falsa ligação do presidente argentino, Mauricio Macri foi sua primeira atuação internacional como presidente. Poucas horas após o afastamento de Dilma, ele gastou seu portunhol à toa, já que quem estava do outro lado da linha era um radialista argentino passando um trote no presidente não-eleito. O episódio foi um prenúncio do que seria a nossa nova política internacional.
Em pouco mais de 6 meses, Michel Temer vem acumulando uma infinidade de saias justas e gafes internacionais. Não é de se estranhar, já que seu governo considera Alexandre Frota um cidadão gabaritado para opinar sobre os rumos do Ministério da Educação, chama o MBL para contribuir com a comunicação do Planalto e mantém Alexandre de Moraes no cargo pela sua aparência de Kojac. Mas, sem dúvidas, é a política internacional do governo que tem concentrado a maior parte das trapalhadas.
Com a nomeação de José Serra para comandar a pasta das Relações Exteriores, o Brasil passou a assumir um papel agressivo dentro do continente, com certo tom imperialista. A nova postura é clara: trata com rispidez os países com governos de esquerda, com carinho os de direita e balança o rabinho para as grandes potências.
O cavalo de pau ideológico na política externa agradou muito os jornalões brasileiros, especialmente Folha, O Globo e Estadão, mas causou estranheza no editor da Foreign Policy — uma das principais revistas especializada em relações internacionais:
"Se Serra acha que reformar a política externa é desfazer o que o Lula fez, ele não está agindo em nome dos interesses do Brasil […] se voltar às políticas pré-Lula, que eram essencialmente 'vamos ter políticas de comércio com algumas partes do mundo, não vamos causar problemas, vamos adotar um tom cético-reflexivo em relação aos EUA etc.', isso não seria bom."
Diplomatas da Unesco também se mostraram preocupados com a nova política externa brasileira. Em junho, o Itamaraty ameaçou mudar seu voto em uma resolução em defesa do patrimônio histórico nos territórios da Palestina que classificava Israel como país ocupante. O Brasil havia votado a favor. Uma mudança de voto não alteraria o resultado (33 x 6 em favor da Palestina), apenas marcaria uma nova posição de alinhamento aos EUA, que votaram contra. O fato assustou um alto diplomata da Unesco:
"A nota indica que tende a haver uma mudança. Entendo que o ministro José Serra queira se opor ao governo de Dilma Rousseff, mas isso terá impactos nas relações bilaterais e pode até representar uma ruptura na abordagem brasileira, que é histórica em relação à Palestina. […] É estranho que um país influente como o Brasil inverta sua posição desta forma."
Instalado o quiproquó, o Itamaraty voltou atrás e disse que manteria o voto. Que beleza!
O Brasil foi representado no exterior por um presidente sem voto, um chanceler que não sabe o que é NSA, um bispo da Universal e o maior desmatador da Amazônia. Que orgulho para nação!
No curto período em que está à frente da pasta, Serra tem protagonizado esquetes de Monty Python que fazem o trote do Macri fake parecer coisa de amador. Logo na primeira entrevista após sua posse, ele foi questionado sobre a NSA e respondeu com outra pergunta: "NSA, o que é isso?". É curioso imaginar que Serra conheça muito bem a Chevron  — a quem prometeu alterar o regime de partilha do pré-sal —, mas não conhece a agência de segurança norte-americana que admitiu ter espionado a Petrobrás e a ex-presidenta da República. Como chanceler, Serra me parece ser um excelente gerente comercial.
Na mesma entrevista, prometeu "turbinar o Itamaraty", que sofria com falta de dinheiro nas embaixadas e reclamação de baixos salários pelos funcionários, que entraram em greve em agosto. Com um jeitinho diplomático que é só seu, Serra ordenou que os salários dos grevistas fossem cortados — o que foi impedido pela Justiça, que considerou a medida excessiva, atestou a legitimidade da greve e ordenou o pagamento integral dos salários.
Recentemente, quando perguntado sobre o significado da sigla BRICS, ">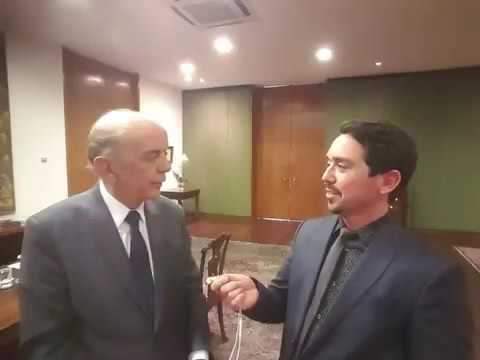 demonstrou enorme dificuldade para explicar. Antes de incluir a Argentina no grupo, o ministro disse que "os BRICS é o conjunto dos países maiores". É como perguntar para um líder sindical "o que é  FGTS?", e ele titubear.
E não se pode dizer que essa peculiar desenvoltura diplomática do tucano seja novidade para Temer. Quando candidato à presidência da República em 2002, o jingle de campanha de Serra usava a Argentina como exemplo para aterrorizar os eleitores: "Quero Serra, porque o Brasil quer mais. Avançar, melhorar, corrigir. O que eu conquistei, não vou jogar para cima. Com todo respeito, não vou ser outra Argentina". Já na campanha presidencial de 2010, o candidato afirmou que o "governo boliviano é cúmplice do tráfico de cocaína". Ali já se desenhava o chanceler de excelência que ganharia o Brasil.
Nessa semana, quando foi à Índia e ao Japão, Temer montou uma comitiva com os ministros Serra, Marcos Pereira (Indústria, Comércio Exterior e Serviços) e Blairo Maggi (Agricultura). Ou seja, o Brasil foi representado no exterior por um presidente sem voto, um chanceler que não sabe o que é NSA, um bispo da Universal e o maior desmatador da Amazônia. Que orgulho para nação!
Temer chegou a contar detalhes de um almoço com Putin que nunca aconteceu. O golpismo é mesmo um estado de espírito.
Mesmo retornando ao Brasil 11 horas antes do previsto ao saber da prisão do seu ">
amigo de fé, Eduardo Cunha, Temer teve tempo para protagonizar mais um vexame. Mantendo a tradição diplomática de seu governo, o presidente contou mais uma lorota ao mundo: garantiu ter tido um encontro com Vladimir Putin, quando, na realidade, foi o único presidente dos BRICS a não ser recebido pelo russo. Temer chegou a contar detalhes de um almoço com Putin que nunca aconteceu. O golpismo é mesmo um estado de espírito. Segundo o enviado especial do Estadão, Andrei Netto, com informação do Russia Today, os russos preferiram "não se aproximar do presidente brasileiro após a 'mudança brusca', como se referiram ao impeachment da ex-presidente Dilma Rousseff".
Marcos Pereira, ministro da Indústria, Comércio Exterior e Serviços, é outro importante representante da nova política internacional brasileira. O bispo licenciado da Igreja Universal do Reino de Deus — e braço direito de Edir Macedo — também deu seu showzinho na Ásia. Segundo o professor de Economia Internacional e vencedor do Prêmio Esso José Carlos de Assis, o bispo "esculhambou publicamente, para dezenas de jornalistas, a política de proteção industrial da Índia" na casa do anfitrião. Certamente não veremos a mesma esculhambação para cima da histórica política protecionista dos EUA, já que o Brasil agora sabe se colocar no seu devido lugar. Tanto que até abdicamos do nosso histórico pleito por um assento permanente no Conselho de Segurança da ONU. É que, segundo Serra, "isso é briga de gente grande".
Mas o mais inacreditável é ler nos grandes veículos de imprensa que o grande mérito da nova política internacional brasileira foi ter se livrado das amarras ideológicas dos governos anteriores. É como se ela fosse calcada unicamente no purismo da técnica, do conhecimento, da ciência. Essa crença de que a ideologia é um monopólio das esquerdas é fascinante. Me lembra muito o paulistano que jura não ter sotaque.
The post Os vexames da nova política internacional brasileira appeared first on The Intercept.

from The Intercept ift.tt/2eVQ1wz