Fotos e um vídeo da polícia francesa emitindo multas a mulheres muçulmanas por violação da nova regulamentação local de mais de dez cidades da Riviera francesa espalharam-se pelas redes sociais na quarta-feira (24), gerando indignação e piadas por parte dos críticos à lei – que impede o uso de roupas mais comedidas por considerá-lo uma ofensa aos "bons costumes e ao secularismo".
O tribunal administrativo mais poderoso da França, o Conseil d'Etat, determinou, na sexta-feira (26), que as proibições eram ilegais, mas o dano à reputação da nação já estava feito.
Let's stop pretending France is the land of "liberté" and "egalité" — when it allows something like this #WTFFrance pic.twitter.com/txSN4vw4In

— ?? Elena Rossini ?? (@_elena) August 24, 2016
L?i?b?e?r?t?é?, égalité, fraternité pic.twitter.com/QwzXfLBKFK

— Karl Sharro (@KarlreMarks) August 24, 2016
Un dessin du Soudanais Khalid Albaih sur la polémique française du #Burkini pic.twitter.com/YSntEP3rAT

— David Thomson (@_DavidThomson) August 24, 2016
In my world, when men with guns tell a woman to undress, that's an extremely serious assault, not a secular value. #Burkini #WTFFrance

— Amy Lawton (@socialchangeftw) August 24, 2016
Arrêté anti-burkini: une nouvelle photo de femme voilée verbalisée à Nice t.co/XRxe18g0WV pic.twitter.com/R3Q5bJoj7r

— L'Express (@LEXPRESS) August 24, 2016
Voici la vidéo des deux jeunes filles se faisant sortir de l'eau par la police à #Nice06 Sans porter de burkini… pic.twitter.com/NoY6i6V7bK

— Feiza Ben Mohamed (@FeizaK) August 22, 2016
Verbalisées pour un simple voile : la dérive des arrêtés "anti-burkinis" t.co/C8DVNAl12t pic.twitter.com/NOkIdO9s7i

— L'Obs (@lobs) August 24, 2016
"Madam i have to ask you to get off your clo…."
"Ah it is ok , i confused u w/ someone else" #France pic.twitter.com/NkMHZ6Lrln

— Ali Shoaib (@CoolGrumpy) August 24, 2016
It's like Martin Luther's 95 theses, it's so courageous. #nice06 #Burkini arrête, posted at every beach. pic.twitter.com/Nwjq3b2yIl

— carpetblogger (@carpetblogger1) August 23, 2016
Mas as mesmas imagens foram recebidas com satisfação pelos extremistas que defendem que muçulmanos praticantes não têm lugar nos países europeus. Uma série de fotos publicadas pelo Daily Mail — mostrando policiais armados abordando uma mulher vestida com um véu, calça leggings e camisa de manga comprida em uma praia em Nice na terça-feira (23) — foram elogiadas pelo político holandês anti-islamismo Geert Wilders.
Fantastic.

Armed police order Muslim woman to remove burkini on packed Nice beach t.co/NmjWt5Y8Lw via @MailOnline

— Geert Wilders (@geertwilderspvv) August 24, 2016
David Thomson, um jornalista francês que acompanha a atividade jihadista on-line, disse à Radio France que simpatizantes do Estado Islâmico nas redes sociais pareciam surpresos com policiais em Nice "criando propaganda em nome deles" e, dessa forma, criando o exemplo perfeito para o argumento de que a França humilha muçulmanos.
"Para eles, isso foi um presente divino", disse Thompson. "A narrativa jihadista insiste há anos que é impossível ser muçulmano e praticar sua religião com dignidade na França;" O analista contou que minutos depois da publicação, as fotos se tornaram um dos assuntos mais debatidos na "jihadosfera" on-line.
"Essas fotos de Nice", acrescentou, "vão alimentar anos de propaganda jihadista".
A ironia, observou Thompson na semana passada, é que a vestimenta que foi banida, o traje de banho que cobre todo o corpo, conhecido como "burquíni", é considerado indecente por teóricos islâmicos. Essas vestimentas, explicou, são o tipo de adaptação à cultura ocidental que mulheres muçulmanas nas colônias francesas no norte da África foram estimuladas a adotar.
"The body of the Muslim woman has always been a way for the French state to assert power over an entire population" pic.twitter.com/bgTqmkXiaP

— ????? ??????? (@Boutaina) August 22, 2016
Na quinta-feira (25), ativistas de um partido francês anticapitalista, o NPA, realizaram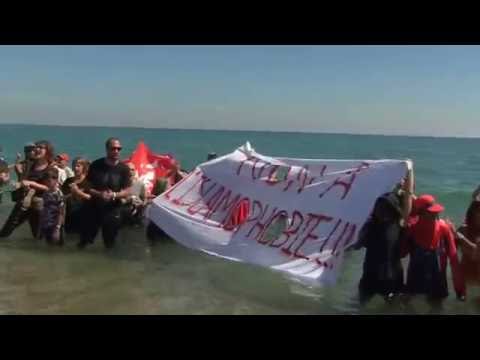 " target="_blank">uma manifestação contra a proibição em uma praia em Leucate, cantando: "C'est aux femmes de décider: trop couvertes ou pas assez!" ("São as mulheres que decidem: cobertas ou nem tanto!")
— NPA (@NPA_officiel) August 25, 2016
Em Londres, manifestantes trouxeram areia para a Embaixada da França, em um protesto contra a proibição chamado "Vista o que quiser".
NOW: #WearWhatYouWant beach outside French Embassy to say NO to controlling women's bodies #BurkiniBan pic.twitter.com/TSCBVCe7jf

— India Thorogood (@indiathorogood) August 25, 2016
Na sexta-feira (26), o Conselho de Estado explicou a sentença em que suspende a ordem emitida pelo prefeito de Villeneuve-Loubet, uma cidade próxima à Nice, alegando que os policiais excederam os limites de suas autoridades. A restrição do acesso de certas pessoas à praia, disse o conselho, ameaça liberdades fundamentais garantidas pela lei francesa, como a livre circulação e a liberdade de consciência, algo que só poderia ser justificado por uma ameaça grave à ordem pública. "Na ausência de tais riscos", determinou a corte, "emoções e preocupações em função de ataques terroristas, incluindo os cometidos em 14 de julho em Nice, não são suficientes para justificar em lei a proibição contestada".
Embora as autoridades de Nice tenham confirmado o incidente relatado pelo Daily Mail — e que pelo menos 23 outras mulheres foram multadas em 38 euros (R$ 138) esta semana — defensores da proibição do "burquíni" acusaram a mulher não identificada de participar de uma "provocação" armada.
Jérémie Boulet, membro do partido xenofóbo Front National, declarou que a mulher poderia estar tentando atrair as autoridades francesas para abordá-la por usar a vestimenta em um dia tão quente. Ele também sugeriu, de forma incorreta, que ela estava sentada em uma toalha quando foi abordada pelos policiais.
— Photo de bonne qualité
— Sans serviette sur des galets
— Habillée sous 36°
La provocation est réussie! #WTFFrance pic.twitter.com/ON7L1lauRt

— Jérémie Boulet (@BouletJeremie) August 24, 2016
Christian Estrosi, ex-prefeito de Nice e agora presidente regional de Côte d'Azur, publicou uma nota na quarta-feira (24) em que qualifica o comportamento de mais de vinte mulheres multadas por suas vestimentas como "provocações inaceitáveis" com o objetivo de "prejudicar os policiais da cidade". Entrosi também alertou que as pessoas compartilhando as imagens da polícia emitindo multas às mulheres nas redes sociais poderiam ser processadas por colocar em risco a segurança dos policiais.
O vice-prefeito de Nice, Rudy Salles, declarou em uma entrevista polêmica com Razi Iqbal da BBC que as mulheres usando os trajes em questão para ir à praia devem ter sido coagidas a fazê-lo por radicais islâmicos.
ICYMI: interview with Dep Mayor Nice #rudysalles #burkiniban #france #islamaphobia @BBCNewshour @bbcworldservice t.co/7mr3d1uAFT

— razia iqbal (@raziaiqbal) August 24, 2016
Dep mayor of Nice defends burkini ban on basis of extremism. Mate, if you've got armed police ordering women to strip, you're the extremist.

— Ian Dunt (@IanDunt) August 25, 2016
Uma agência de fotografias da França que adquiriu os direitos sobre as imagens contou ao jornal Libération que as fotos "definitivamente não tinham sido armadas, como alegado", e que foram tiradas por um fotógrafo independente "que estava na praia por acaso" em busca de imagens da proibição sendo aplicada. Ele estava a aproximadamente 100 metros da mulher, quando observou a abordagem dos policiais e fotografou o encontro com uma lente teleobjetiva.
"O freelancer testemunhou a cena, que ocorreu às 11hs da terça-feira (23) e durou aproximadamente 10 minutos", declarou em nota a agência Best Image. "A mulher recebeu uma multa e deixou a praia poucos minutos depois" Isso foi tudo que o fotógrafo presenciou".
A especulação de que a situação poderia ter sido armada foi alimentada pelo fato do nome do fotógrafo não ter sido divulgado, mas o incidente ocorreu no mesmo dia que uma jornalista francesa, Mathilde Cusin, testemunhou algo ainda pior: uma mulher em Cannes sendo multada por policiais e hostilizada por curiosos. A mãe de 34 anos, identificada como Siam, contou à Agence France-Presse que recebeu a multa por sentar na praia com sua família usando um véu e calça leggings. "Eu não pretendia nadar", contou.
Em uma entrevista para a revista semanal Le Nouvel Observateur, a mulher contou que ficou perplexa quando os policiais disseram que os frequentadores da praia eram obrigados a "vestir-se adequadamente", de acordo com a nova regulamentação. Ao perguntar aos oficiais o que isso significava, foi comunicada que somente poderia permanecer na praia se concordasse em amarrar o hijab como uma bandana.
"Meus filhos estavam chorando por conta da humilhação", contou Siam à revista. "Nem eu conseguia parar de chorar. Eles nos humilharam".
Durante o impasse com a polícia, uma multidão de curiosos se aproximou. Alguns deles a defenderam, alegando que ela não estava fazendo mal a ninguém e não estava usando um "burquíni". Outros, porém, dirigiram insultos racistas a mulher. "Eu fiquei chocada", admitiu. "Ouvi insultos que nunca tinha ouvido antes, como "Vai para casa"". Siam, que nasceu em Toulouse e tem pais franceses, contou que alguém acrescentou: "Somos católicos aqui".
"As pessoas exigiram que ela fosse embora ou removesse o véu. Foi muito violento", Cusin contou à revista. "Tive a impressão de assistir a um bando perseguindo uma mulher sentado no chão às lágrimas com sua filha pequena."
"O que mais me chocou foi que as pessoas, em sua maioria, tinham em torno de 30 anos, não eram mais velhos como se poderia imaginar", acrescentou Cusin.
"No país dos direitos humanos, não vejo vestígios dos princípios de liberdade, igualdade e fraternidade", disse Siam. "Estou indignada que isso pôde acontecer na França."
Na quinta-feira, em entrevista em inglês à BBC, Siam disse sentir-se "uma estranha em seu próprio país".
"Hoje, fomos banidas das praias," contou em entrevista ao programa AJ+ da Al Jazeera. "Amanhã seremos banidos das ruas."
This Muslim woman was forced to undress by armed French police. Social media reacted with #WTFFrance.t.co/RcC5mMIfX9

— AJ+ (@ajplus) August 24, 2016
"Somos mulheres. Somos adultas," acrescentou. "E se o véu for uma opção pessoal, e as mulheres quiserem usá-lo, por que impedi-las?"
Foto principal: O texto de uma regulamentação que proíbe mulheres de usar trajes de banho que cobrem todo o corpo em uma praia de Nice, França.
Tradução por Inacio Vieira
Sign up for The Intercept Newsletter here.
The post Proibição do 'burquíni' funciona como propaganda do Estado Islâmico appeared first on The Intercept.

from The Intercept ift.tt/2bSVI9b