Hundreds of Serb nationalists protested Vice President Joe Biden's visit to the Serbian capital, Belgrade, on Tuesday by staging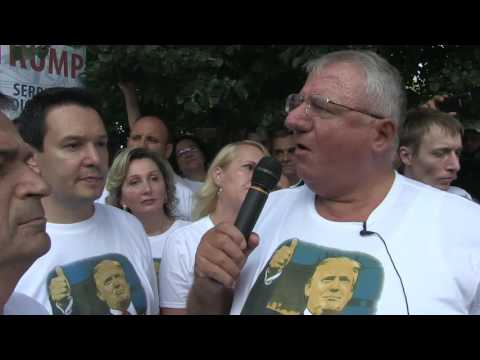 ">a rally in support of Donald Trump.
— VOJISLAV SESELJ (@seselj_vojislav) August 16, 2016
The activists, led by the head of Serbia's ultranationalist Radical Party, Vojislav Seselj, chanted "Donald Trump!" and marched outside the country's Parliament wearing t-shirts bearing the name and likeness of the American candidate.

Speaking to his supporters in somewhat broken English, Seselj said that the message for Serbian-Americans was simple: "Vote Trump, for future of Serbia." In his own language
?t=29s">he told Reuters later: "Trump is the alternative to globalization. He will destroy old centers of power in the United States and he is a supporter of Russia." The Serb nationalist also praised Trump for "restoring American pride."
Many Serbs remain bitter at former President Bill Clinton for 78 days of deadly air strikes on Belgrade and other parts of the country in 1999, when a NATO intervention to prevent the slaughter of ethnic Albanian rebels in Kosovo enabled that southern province to secede.
???????? ?? ?? ?????? ????????! pic.twitter.com/1VdUMjTHFt

— ?????? ???????? (@srpski_radikali) August 16, 2016
@HillaryClinton @realDonaldTrump Great memories.
With love from Serbia! <3 <3
Go Trump! pic.twitter.com/zAiVM5UWmC

— VOJISLAV SESELJ (@seselj_vojislav) July 26, 2016
Seselj, who helped incite the ethnic cleansing of parts of Bosnia, Croatia and Serbia in the 1990s — by recruiting volunteer fighters and calling non-Serbs "primates," vampires" and "excrement" — was acquitted of crimes against humanity and war crimes in a split decision by a panel of three judges at the United Nations court in The Hague in March.
Serge Brammertz, the chief prosecutor for the International Criminal Tribunal for the former Yugoslavia, condemned the decision and promised to appeal it.
The original indictment notes that Seselj began his career in ultranationalist politics when he travelled to the United States in 1989 and "met the chairman of the 'Movement of Chetniks in the Free World,' Momcilo Dujic, who on the day of the 600th anniversary of the Battle of Kosovo — 28 June 1989 – appointed him a Chetnik 'Vojvoda,' meaning a 'Duke' or leader." Having secured this endorsement, Seselj then collected funds to support his nationalistic activities from the Serbian-American diaspora.
According to Balkan Insight, a website financed by the European Commission, Seselj has continued to support the goal of a "Greater Serbia," and still calls Bosnia "undoubtedly Serbian."
"If the Muslim fundamentalists don't like that," he added, "they can pack their bags and leave."
Radical nationalists in Serbia justified their brutal assault on civilians in Bosnia by claiming, falsely, that the largely secular population of Slavs who adopted Islam centuries ago during Ottoman rule were secretly Muslim extremists. More than 100,000 people were killed in the ensuing campaign of murder, rape and intimidation initiated by Serb forces and the wars that followed.
Seselj had already endorsed Trump's candidacy during the Republican primary campaign in January, writing on Twitter: "I call on brother Serbs who live in the USA to strongly support Republican Party candidate Donald Trump in the upcoming presidential elections."
The Serbian transliteration of Trump's name, however, is less than flattering.
*Meanwhile, in Belgrade#Trumpt.co/ZcJjfTE9Fj pic.twitter.com/C6gRV1Jffv

— Cory Doctorow (@doctorow) January 14, 2016
In case there was any doubt about his feelings, Seselj made his loyalties clear in a message calling on supporters to attend the rally on Tuesday afternoon.
?????? ?? ??? ? 17 ?????? ?????? ?????????????.
Fuck you Biden, fuck you…
VOTE TRUMP! pic.twitter.com/7W3DptP1GB

— VOJISLAV SESELJ (@seselj_vojislav) August 16, 2016
As Biden walked through another part of Belgrade with Prime Minister Aleksandar Vucic on Tuesday, he told reporters: "I'd like to express my condolences to the families of those whose lives were lost in the wars of the 1990s, including those killed as a consequence of the NATO air strikes."
Sign up for The Intercept Newsletter here.
The post Serb Who Inspired Ethnic Cleansing of Bosnia Leads "Vote Trump" Rally in Belgrade appeared first on The Intercept.

from The Intercept ift.tt/2aXJyd0